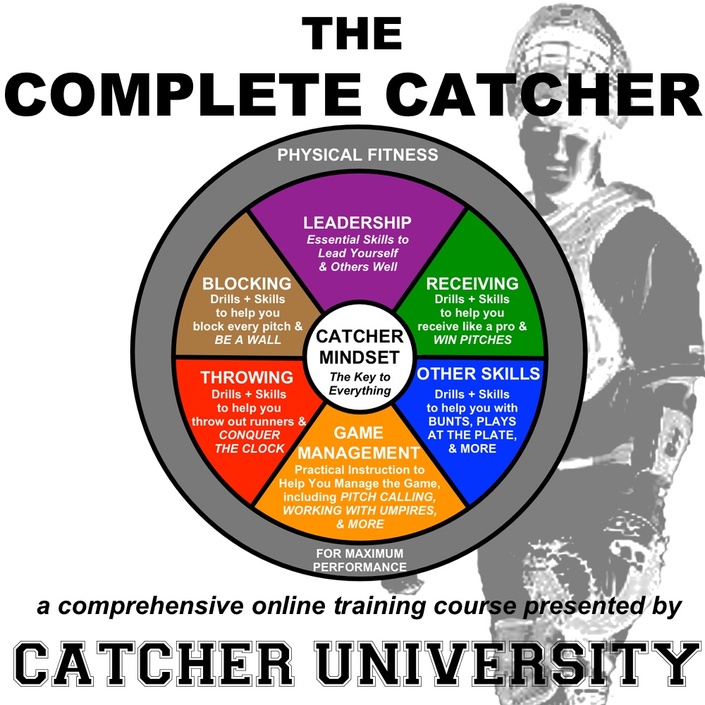 The Complete Catcher
A Complete Guide to Coaching Catchers for Parents, Coaches, and Catchers
Are you the parent of a catcher? Or, are you a coach looking for guidance in coaching your catchers?
Do you want to learn how to coach your catcher (even if you've never caught or played baseball before)?
As a parent or a coach, do you want to connect with your catcher around a common purpose (and learn how to navigate the tricky parent-player coaching dynamic if you're a parent)?
Do you want to create lifelong memories (and still talk about those memories with your child when you become a grandparent)?
If you answered yes to even one of those questions then you need to keep reading because Catcher University's Parent's Guide to Coaching Catchers is exactly what you've been hoping for…
Have you ever asked yourself...
How do you handle the parent-child dynamic without causing frustrating for both you and your child?
How do you know what good catching is supposed to look like?
You know that private lessons add up quickly, but how do you practice with your son/daughter outside of lessons and team practices?
Your child's coach is a good coach, but you also know that your kid isn't getting enough catching instruction at practice. What do you do?
You'd LOVE to have a direct role in your child's success on the field, but where do you start?
You know you have an opportunity to help your catcher experience success on the field, connect with your child, and create lifelong memories. But you also know that you need some guidance.
If you find yourself asking some (or all!) of those questions, don't worry. You are not alone. I have heard questions like these from too many parents and coaches to count.
You have the opportunity to be the most important coach your catcher as ever had. But, to be that coach you also know that you need some guidance when it comes to coaching your catcher.
Why is that exactly?
CATCHING IS HARD
The reality is that catching is hard. In fact, catching is not only the most important position on the field… it's also the most challenging. Here's why:
Catching is the most physically demanding position on the field.

Catching requires mastery of more technical skills than any other position on the field.

Catchers are involved in every single pitch of the game.

Catching is the most important position on the field. It impacts winning and losing games more than any other position.
And yet, it's not only the hardest position to play… it's also the hardest position to coach… why is that?
WHY IS GOOD CATCHING INSTRUCTION SO HARD TO FIND?
It's hard to coach catchers because it's WAY TOO hard to find good catching instruction. The reason it's so hard to find good catching instruction comes down to simple math...
... There are fewer catchers than there are any other position on the field, therefore there are fewer people that have played catcher.
... Since there are fewer catchers than any other position, there are also fewer people who have played catcher at a high level (like collegiate and professional) than any other position.
... Because so few people have played catcher at the collegiate or professional level, the pool of potential coaches is smaller than for any other position.
... Then, even out of the few people who have played catcher at the highest levels, even fewer are willing/able to teach catching.
… Finally, hiring expert catching coaches can be extremely expensive and you can only afford so many camps, lessons, and clinics.
CATCHING IS ALSO THE BEST OPPORTUNITY IN BASEBALL
Catching the hardest position in baseball. Anyone who argues otherwise doesn't understand baseball.
But, catching is also the greatest opportunity in baseball.
EVERY team needs a good catcher to be successful. You've probably experienced the difference a good or bad catcher makes in the outcome of a game.
With that in mind, every coach is going to be looking for good catchers. Catching is the best opportunity for any player to make any team they are trying out for - anywhere from the youth levels to high school varsity teams to collegiate/professional teams.
Catching presents unique challenges and is the hardest position to both play and coach. But, for those who have the resources and put in the work, its also the best opportunity for a player to make the team they are trying out for and contribute to that team's success.
YOU COULD BE THE KEY TO YOUR CHILD'S SUCCESS
I know first-hand how powerfully a parent's coaching can change a child's life…
My dad is the most important coach I ever had. My eyes start watering every time I think about everything that my dad has done for me. My dad wasn't a catcher. He didn't even play varsity baseball. But, he was absolutely essential to every ounce of success I experienced as a player.
I know how much my dad meant to my career as a player. As a parent, I also know what it feels like to want to do absolutely anything to help my son succeed. And, as a coach, I know what it takes to help a catcher at every level - from learning how to put their gear on the right way all the way to excelling at the collegiate/professional level.
That's why this Parent's Guide to Coaching Catcher's exists…
To help you coach your catcher with professional level catching instruction that can be applied to any catcher, at any level (without breaking the bank by relying on expensive lessons, camps, and teams)

To help you connect with your child in ways that bring you closer together (and avoid the mistakes that could drive you apart)

To help you create lifelong memories (and know that you played a pivotal role in your child's success that will be remembered forever)

Because this guide is PACKED with all the information you need. Here's what you'll learn:
Coaching Your Child
Use the C.A.R.E. Framework to help you coach AND connect with your child

The best way to communicate effectively with your child (so you don't fall victim to the all-too-common coaching frustrations that come with coaching your child)

How to develop and share a common purpose with your catcher

The absolute most important factor in successfully coaching your child

Establish goals that both you and your child can get excited about

How to set the right type of goals (and avoid the pitfalls of the wrong kind)

How to use a specific exercise to keep the right perspective at all times

The secret to avoiding blow-up fights that drive you and your child apart instead of bring you two together

The best parenting lesson from the dad of one of the best athletes of all time (hint: it's Kobe Bryant's dad)

Throwing
The truth about pop times and what coaches at the high school, college, and professional level are ACTUALLY looking for

The absolute most important principle in throwing (and why nothing else matters if you don't get this)

The Three Essential Throwing Fundamentals (plus a fourth that is almost always overlooked but can ruin your pop time)

How to throw the ball harder AND be more accurate

Where to find HUNDREDS of HIDDEN practice reps doing something you have to do every time you step on the field

The two-step footwork that will automatically lower your pop time

The mindset secret that will help every catcher at every level throw with more velocity

How to avoid the mistakes that are robbing you of your potential pop time

Receiving
Why receiving is THE most important skill in catching (regardless of what "guru's" might say)

The technique that is the secret to catching a 100mph fastball like a pro (and make it look easy…)

The exact drill that is used by the best MLB catcher in the game (any catcher at any age can start practicing this drill today… oh, and Yadier Molina is the one who uses this drill daily!)

The most overlooked secret to receiving like a pro (hint: it happens before the pitch is even released and is all about eliminating pre-pitch movement!)

How to win pitches and convince umpires to call those borderline pitches strikes

How to "beat the ball to the spot" (learn both what that means and how to start doing it immediately)

Drills like Rapid Fire and Decoy that can improve your quickness and hand-eye coordination in a matter of minutes

The same drills used by big league catchers every day to hone their skills

Blocking
The #1 most important thing about blocking (hint: it's actually not physical)

The 6 keys to the proper blocking position that will keep you safe and make you a better blocker

Why simply blocking the ball is actually NOT your ultimate goal in blocking (yes, that sounds contradictory but it's not)

The one thing above all else that will make you a better blocker IMMEDIATELY

The secret to not just blocking the ball, but controlling the ball and keeping it close

The best blocking drill out there (the crazy part is that it involves blocking with your hands behind your back)

The most fun blocking drill you'll ever do (seriously - all catchers absolutely love it!)

How to train AND warmup before a game at the same time in less than 5 minutes (this will help your catchers improve their skills and perform better in games)

Pitch Calling
Principles you need to master the art of pitch calling

How to read any hitter's swing, and then what that means for calling pitches

How to call pitches that will help any pitcher at any level get more outs

The secret that will help your pitchers throw more complete games (it's called pitch efficiency, and here's how you master it…)

The beauty of dynamic pitch calling - what it is and how it will drastically improve your pitcher's ability to get outs

Easy to learn and memorize formulas for calling a great game

The #1 key you have to know when calling a game (it seems obvious but it's so easily forgotten)

Managing Umpires
How to earn the trust of any umpire at any level

Keys to convincing umpires to call borderline pitches strikes

What you should NEVER do to an umpire (if you do this you're guaranteed to not get those borderline calls…)

How to secretly let you coach know when an umpire missed a call

Giving Signs (and how to keep them from being stolen!)
The basic sign sequences that should be used by every catcher

The BEST sign system to use with runners on base so that you'll never get your signs stolen again

How to prevent the 3B and 1B coaches from stealing your catcher's signs

What to look for in base runners that might be stealing signs

And that's not all! You'll also learn...
The best way to stay safe AND get the out in a play at the plate

How to field a bunt in any direction

How to build your catcher's physical strength and fitness so he can perform at his potential

Practical ways that catchers can be great teammates and leaders

Leadership lessons that make catchers and teams better (both on and off the field!)

And much, much more!

Your Instructor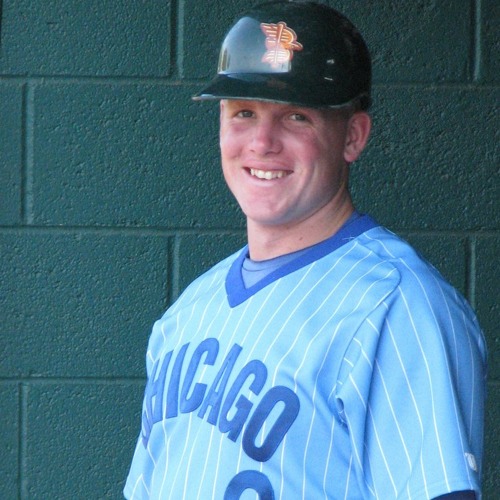 BUT WAIT, WHO AM I AND WHY SHOULD YOU LISTEN TO ME?
My name is Matt Williams and I am the Founder of Catcher University. I started catching when I was 8 years old because I was the only kid who showed up to my little league game wearing a cup.
Since then, catching has allowed me to…
travel the country playing in tournaments with fun and competitive summer teams
become the first freshman to ever make varsity at my high school
win every award possible in the state of Michigan except for one
earn a scholarship to play baseball at Duke University
start all four years at Duke as a catcher and catch more games than any other catcher in Duke's history
win many awards and honors while at Duke, including being named one of 13 semi-finalists for the Johnny Bench Award (given to the top D1 catcher in the country)
get drafted by the Chicago Cubs in the 18th round after my senior year
retire from professional baseball to pursue a career in coaching at the youth, high school, and collegiate levels
work with players ranging from 8 years old and putting on catching gear for the first time all the way to highly ranked draft prospects
PLAYING ACCOMPLISHMENTS
18th round draft pick of the Chicago Cubs in the 2009 MLB Draft
1 year of professional baseball experience at the Rookie and A- MiLB levels
2009 NCAA Johnny Bench Award Semi-Finalist (given to top Division 1 catcher)
2009 NCAA Lowe's Senior class Award Nominee
4 year starter at Duke with a total of 216 games played in 4 years
.310 career hitter while at Duke
4x ACC Honor Roll member
3x All-ACC Academic Team
COACHING EXPERIENCE
Co-Founded Youth Baseball Club that grew from 0-32 teams in just three years (2013-2016)
Founded Catcher University to provide live and online training to catchers ranging from beginners all the way to top professional prospects (2015-present)
High School Varsity Coach (2013)
Collegiate Assistant Coach at MidAmerica Nazarene University (2014-17)
Co-Founded Best in the US Showcases company that has provided showcase events all over the country with hundreds of college coaches and 1000+ players in attendance (2015-present)
Private catching/hitting instructor (2012-present)
Here's the full outline of the course...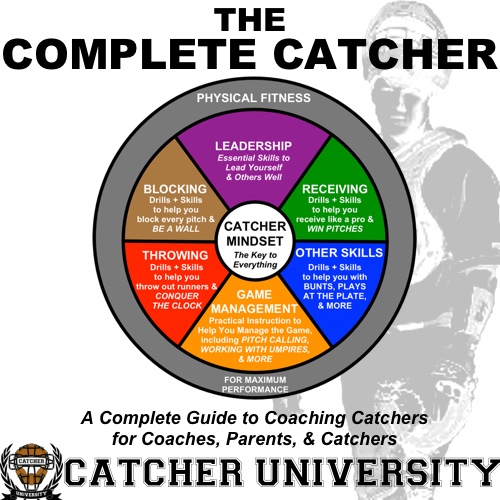 Be sure to click the arrow to expand the outline to see every lesson. You can also preview some of the lessons - just click the preview buttons in the outline to see what the full lesson looks like!

Course Curriculum
CATCHER MINDSET
Available in days
days after you enroll
STANCES
Available in days
days after you enroll
Frequently Asked Questions
When does the course start and finish?
The course starts now and never ends! It is a completely self-paced online course - you decide when you start and when you finish.
How long do I have access to the course?
How does lifetime access sound? After enrolling, you have unlimited access to this course for as long as you like - across any and all devices you own.
What if I am unhappy with the course?
We would never want you to be unhappy! If you are unsatisfied with your purchase, we have a 100% full refund available after 30 days. If you've gone through the material and found that it does not help after 30 days then we will give your money back. No hassles, but we might ask you what we can do to make the course better.
Do I get access to new content?
Absolutely. Your lifetime enrollment includes any/all content that we add. This library will continue to grow so this is course is the gift that keeps on giving!
DON'T JUST TAKE MY WORD FOR IT. HERE'S WHAT OTHERS ARE SAYING...
"It's like you anticipated my every thought. The videos are perfect for the visual learner, while the text break down helps explain the what and the why. I feel the novice as well as the experienced parent could use this guide and truly help grow their player."
- Becky, High School Baseball Parent, Ph.D & Middle School Assistant Principal
"This is GREAT!!! What a great product!"
- Jeremy, Youth Softball Parent
READY TO GET STARTED?
The Complete Catcher normally costs $299. But if you sign up today for the LIFETIME Membership then you'll save $100 and make just one payment of $199. That's over 20% savings!
But, that's not all...

BONUS #1 - Private Facebook Group
Every person that signs up for the Parent's Guide also gets invited to join the private Catcher University Members Only Facebook group. I personally check in on that group every day Monday-Friday and answer any/all questions you have.
BONUS #2 - Free Video Analysis
I will break down any catching skill (receiving, blocking, or throwing) for free and give you the best drills in the Catcher University Library to work on that skill.